GP8 Series 6 Plus Pallet Truck Brochure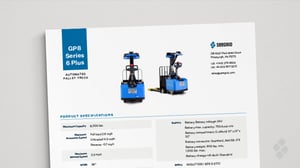 Seegrid self-driving vision guided vehicles (VGVs) move materials for the world's largest companies. Our GP8 Series 6 Plus pallet truck offers fully automated material movement to execute hands-free load exchange from pick-up to drop-off.
Unlike old AGV technology, Seegrid self-driving vehicles are built for flexibility. Our solution gives you the power to retrain routes in-house without Seegrid engineers and deploy your VGVs in minutes to different functions or shifts.