Seegrid, the leader in vision guided autonomous vehicles for materials handling, announced today the completion of a successful 2016, in which Seegrid doubled orders based on increased demand from both existing and new customers. Innovative companies like Jaguar Land Rover, Whirlpool, Daimler, and one of the world's largest online retailers all selected Seegrid vision guided vehicles (VGVs) to help transform their enterprises. Seegrid's data-rich sensor technology continues to deliver unmatched flexibility and the lowest total cost of ownership to companies investing in automated material handling and Enterprise Intelligence solutions. Seegrid's driverless vehicles are the most proven AGVs that do not require fixed infrastructure in the factory or warehouse. Seegrid ended the year with more than 500,000 driverless miles at customer facilities—equivalent to traveling to the moon and back—without a single safety incident.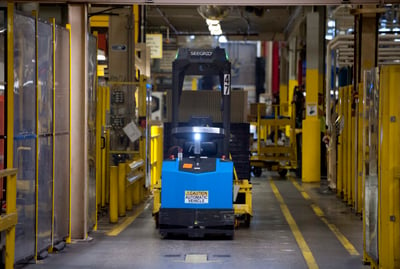 A number of key factors contributed to the company's record year:
Seegrid delivered very attractive return on investment for its customers across North America, the United Kingdom, and Germany, with payback periods less than 12 months in many cases. Existing customers who are already achieving safety and economic benefits using VGVs placed substantial orders to increase their fleets, and new customers invested in automation based on the reliability and flexibility of Seegrid Vision technology.
Seegrid and The Raymond Corporation, a leading industrial truck
manufacturer and part of the Toyota Material Handling Group, increased its VGV product line with the introduction of the

Raymond Courier™ 3020 Tow Tractor Automated Lift Truck, joining the Raymond Courier™ 3010 Automated Pallet Truck. Equipped with Seegrid Vision technology, the Raymond Courier product line provides unmatched flexibility to Raymond customers. Raymond's iWAREHOUSE®, in conjunction with Seegrid's Supervisor Enterprise Intelligence software provides the most robust tracking and reporting for mixed-technology fleets in the industry. Vision guided vehicles can be purchased either through Raymond's dealer network or directly from Seegrid.
In 2016, Seegrid enhanced Seegrid's Supervisor software with Subway Platform, providing estimated time of arrival (ETA) Developed strategically with Whirlpool Corporation, Subway Platform increases predictability and manages human-robot collaboration. Management can track automated operations at a glance and assembly operators know exactly when their goods will arrive.
"Our customers aren't just looking for advanced robotics systems to meet their immediate logistics needs, but a platform and vision to help transform their entire business. Seegrid's success in 2016 can be attributed, in large part, to our ability to support forward-looking Enterprise Intelligence initiatives," said Jim Rock, Seegrid's CEO. "Our patented 3D Vision technology is aligned with the global movement toward Industry 4.0. For those enterprises aiming to develop a more intelligent, efficient, and seamless factory or warehouse, our autonomous vehicles are the catalyst needed to improve productivity, safety, and reliability."
ABOUT SEEGRID
Seegrid is the leading provider of connected self-driving vehicles for materials handling with more than a million miles driven. The Seegrid Smart Platform combines flexible and reliable infrastructure-free vision guided vehicles with fleet management software for a complete connected solution. Seegrid accelerates Industry 4.0 and lean initiatives with incremental automation, helping companies achieve a truly connected enterprise and transform into smart factories of the future. www.seegrid.staging.wpengine.com
Media Contact
Beth Peck
bpeck@seegrid.com
412-379-4500 x 7060
###