Seegrid, the leader in connected self-driving vehicles for materials handling, has been named one of the most noteworthy companies in the global robotics industry by Robotics Business Review (RBR). The RBR50 is an annual list of the innovative and transformative robotics companies that have achieved significant commercial success in the past year.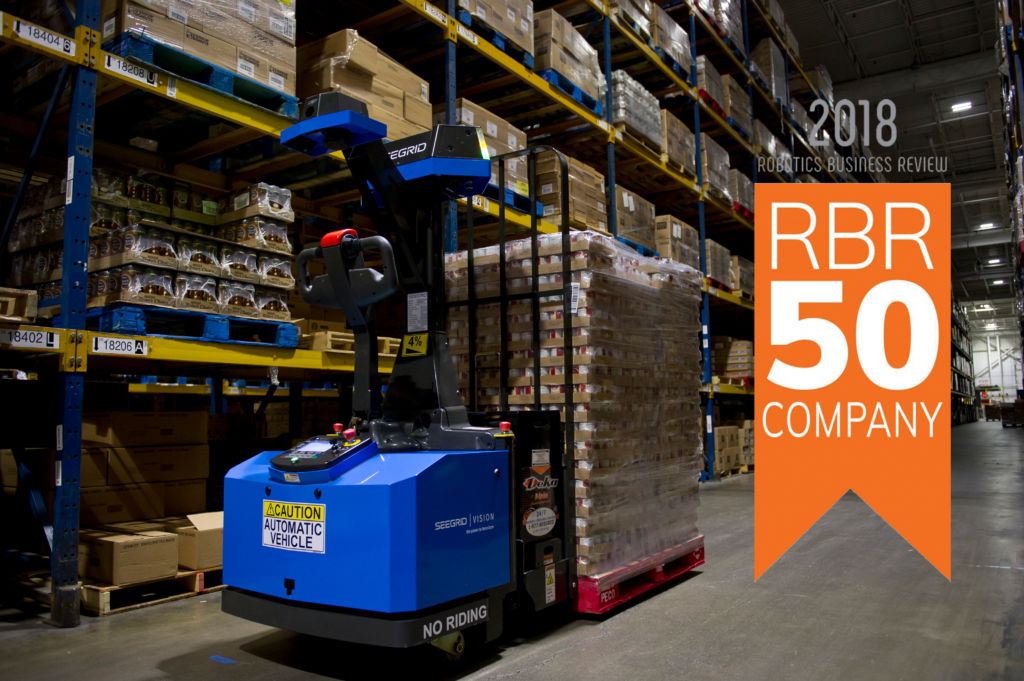 "Selecting the companies for the RBR50 is always a difficult task," said Keith Shaw, editor at Robotics Business Review. "With more companies than ever entering the robotics and AI space, choosing the top 50 companies was especially challenging this year. We're confident that the selections reflect the best of the best in this exciting and growing market."
RBR50 companies are recognized based on their groundbreaking applications, market influence, and industry potential. In 2018, Seegrid became the first infrastructure-free self-driving vehicles to log 1 million production miles at customer sites–without a single safety incident.
"The manufacturing, distribution, and e-commerce companies that will compete most successfully in the future of our economy are those that leverage the value delivered by self-driving industrial vehicles," said Seegrid CEO Jim Rock. "We're proud to be named a leading robotics company by RBR, and we're excited to continue helping the world's leading companies streamline their supply chains with automation."
"This year's RBR50 companies reflect how the robotics industry has grown and is still growing," said Eugene Demaitre, senior editor of Robotics Business Review. "We look forward to seeing how these leaders shape their respective markets."
To see the full 2018 RBR50 report, please visit: RoboticsBusinessReview.com
ABOUT ROBOTICS BUSINESS REVIEW
Robotics Business Review provides actionable business intelligence for the global robotics industry. Members enjoy exclusive insights into global news, tracking of financial transactions, analysis of new technologies and companies, annual and quarterly research reports, access to the RBR50 list of leading robotics companies, and much more.
About Seegrid
Seegrid combines autonomous mobile robots, enterprise software, and best-in-class services for a complete, connected material handling automation solution. With millions of autonomous production miles driven, Seegrid PalionTM AMRs are reliable, flexible, and proven. The world's largest manufacturing, warehousing, and logistics companies rely on Seegrid to automate material flow in highly complex environments. From project design through deployment, change management, user training, and data-driven consultation, material flow is both safe and optimized, accelerating automation initiatives today and into the future.

To access Seegrid images, visit: seegrid.com/media

Media Contact
Kathryn Boyle
media@seegrid.com
412-379-4500

###