Quick Reference Guide: AGV and Material Handling Terminology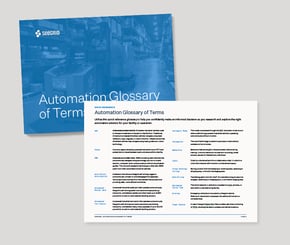 Download the Automation Glossary of Terms to help you confidently make an informed decision as you research the right automation solution for your facility or operation.
This guide includes terms associated with self-driving industrial vehicles and material handling processes. The purpose of this guide is to help supply chain professionals gain a solid understanding of the common vocabulary to facilitate meaningful analysis and discussion while researching, scoping, and deploying automation solutions. We've included terms that are applicable to manufacturing, warehousing, and logistics material handling facilities.
The adoption of automated guided vehicles (AGVs) and autonomous mobile robots (AMRs) has significantly increased to meet the growing demands, pressures, and complexities that supply chains face today. With this, the amount of terms, buzzwords, and acronyms continues to grow as material handling facilities increasingly transform into smart factories of the future with accelerated Industry 4.0 and lean initiatives.
Our mission at Seegrid is to fortify global supply chains with safe, seamless, and smart mobile robotics solutions. This guide is a first step in your journey to create safer and more productive material handling facilities. Download the Automation Glossary of Terms now to fast track your transformation and gain a solid understanding of our technologies and terminology.