Discover how Seegrid can help streamline your facility's workflow with this infographic download.
Material handling automation solutions are crucial in building an agile supply chain. But before investing in an automation solution, it is important to understand the current workflows as well as potential opportunities for improvement within your facility.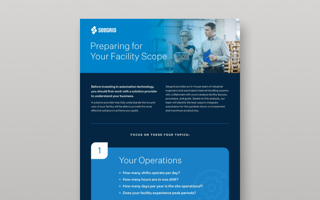 Autonomous mobile robot (AMR) companies, such as Seegrid, know that manufacturing, warehousing, and logistics facilities need flexibility and scalability to address unpredictable demand, labor challenges, and safety measures. The facility scope evaluates a wide range of information, including how processes work now and in the future, where and how automated material handling will function through a facility, benefits of labor reallocation, and the number of Palion AMRs needed based on the customer's applications and goals.
Seegrid provides an in-house team of industrial engineers and automated material handling experts who collaborate with you to analyze facility layouts, processes, and goals. Based on this analysis, our team will identify the best ways to integrate automation for the quickest return on investment and maximum productivity.
From warehouses to distribution centers, our team of experts will create a tailor-made solution to best fit your business needs. Learn more about:
The steps to ensure automation success: Discover the four key topics to focus on as you get started with your automation project.
Seegrid's industry expertise: Our team of experts will collaborate with you from scope to implementation and beyond to understand your automation needs across different applications and workflows.
Trusted solutions: Seegrid provides leading global brands with connected autonomous mobile robots (AMRs), enterprise software, actionable analytics, and best-in-class services and support.
Seegrid combines our Palion AMR fleet, enterprise software, and the passion of our experienced team for a connected material handling solution. Our in-depth industry experience means Seegrid is uniquely equipped to help you rapidly deploy, scale, and continuously innovate.