Increase Productivity and Safety with AMRs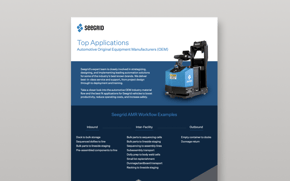 Seegrid autonomous mobile robots (AMRs) are designed to efficiently, safely, and confidently navigate in challenging, ever-changing environments to help facilities achieve material handling goals and continue improving. Our expert team has extensive experience designing applications for the top OEMs within the automotive industry.
This infographic takes a closer look into the material flow for automotive OEMs as well as some of the best fit applications for Seegrid vehicles.
Download the automotive OEM infographic now to discover how Seegrid AMRs can help streamline your facility's workflows to boost productivity, reduce operating costs, and increase safety.