Learn how with this infographic download.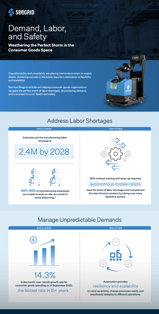 Historically, forecasting consumer demand was easy to predict. Seasonal spikes around the holidays, back-to-school, and tax season were all typical. This demand was expected, and companies had ample time to prepare their supply chains, hire seasonal labor, and do it all in an organized and safe way.

With the arrival of COVID-19 in early 2020, that predictability vanished — rewriting the script for forecasting demand of consumer goods.

Spending on consumer goods spiked with the fastest rate of growth seen in more than 15 years. At the same time, manufacturers experienced shutdowns and other restrictions aimed at slowing the spread of the virus which slowed production and exacerbated the existing labor shortage. Manufacturers were forced to focus not only on managing an accident-free facility, but also on reducing operator touches and adhering to new regulations around social distancing and cleanliness.

The result: A perfect storm of surging demand, labor shortages, and increased health and safety pressures for consumer goods manufacturers.

The lesson: We must always be ready for the next storm. Supply chains must have the flexibility and scalability to ramp up quickly, change processes easily, and redeploy to different operations when needed. Automation enables these changes seamlessly, in a manner that ensures consistency.

Learn how automated solutions can help you respond to whatever storms may come in a way that increases productivity, ensures safety, reduces labor costs, and delivers strong ROI.