Drive a Strong ROI with Autonomous Mobile Robots (AMRs)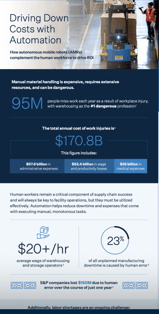 Manual material handling is expensive, requires extensive resources, and can be dangerous. Discover how AMRs complement your human workforce to drive a strong and fast ROI.

In this infographic, we outline the many costs associated with manual material handling. Human workers remain a critical component of supply chain success, but they must be utilized effectively. Automation helps reduce downtime and expenses that come with executing manual, monotonous tasks while increasing productivity and safety.

Download the Driving Down Costs with Automation Infographic now to see the impact Seegrid AMRs can make on your facility to make it safer, more productive, and more profitable. Complete the form for instant access.