Forklift-free: Reduce Risks and Boost Your Bottom Line
Is It Possible to Eliminate Forklifts Completely?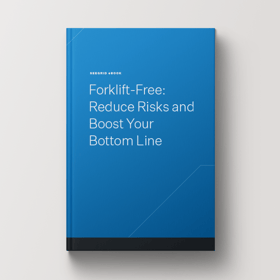 Manually-driven forklifts are inherently dangerous. In fact, in the U.S. alone, nearly 100 fatalities and more than 13,000 injuries are caused by forklifts on an annual basis. Many manufacturing, warehousing, and distribution facilities attempt to mitigate risks by implementing forklift training, safety protocols, and policies; however, none of these methods are fail-proof.
Companies worldwide are instituting forklift-free environments, seeking alternative solutions—including automated guided vehicles (AGVs) and autonomous solutions—to move products and materials while also driving safety, efficiency, and profitability initiatives.
In our latest eBook, "Forklift-free: Reduce Risks and Boost Your Bottom Line," we've compiled insights from industry experts and thought leaders to explain the many aspects of going forklift-free, including:
How forklift-free environments boost efficiency and drive cost reduction
The demands that are adding complexities for supply chains
Achieving safety and profitability goals together with forklift-free environments