Seegrid, the leader in connected self-driving vehicles for materials handling, today expanded the company's suite of automated solutions with the announcement of the GP8 Series 6 self-driving pallet truck. Further enhancing the Seegrid Smart Platform, which combines flexible and reliable infrastructure-free vision guided vehicles with fleet management and enterprise intelligence data, the GP8 Series 6 offers fully automated material movement to execute hands-free load exchange from pick-up to drop-off.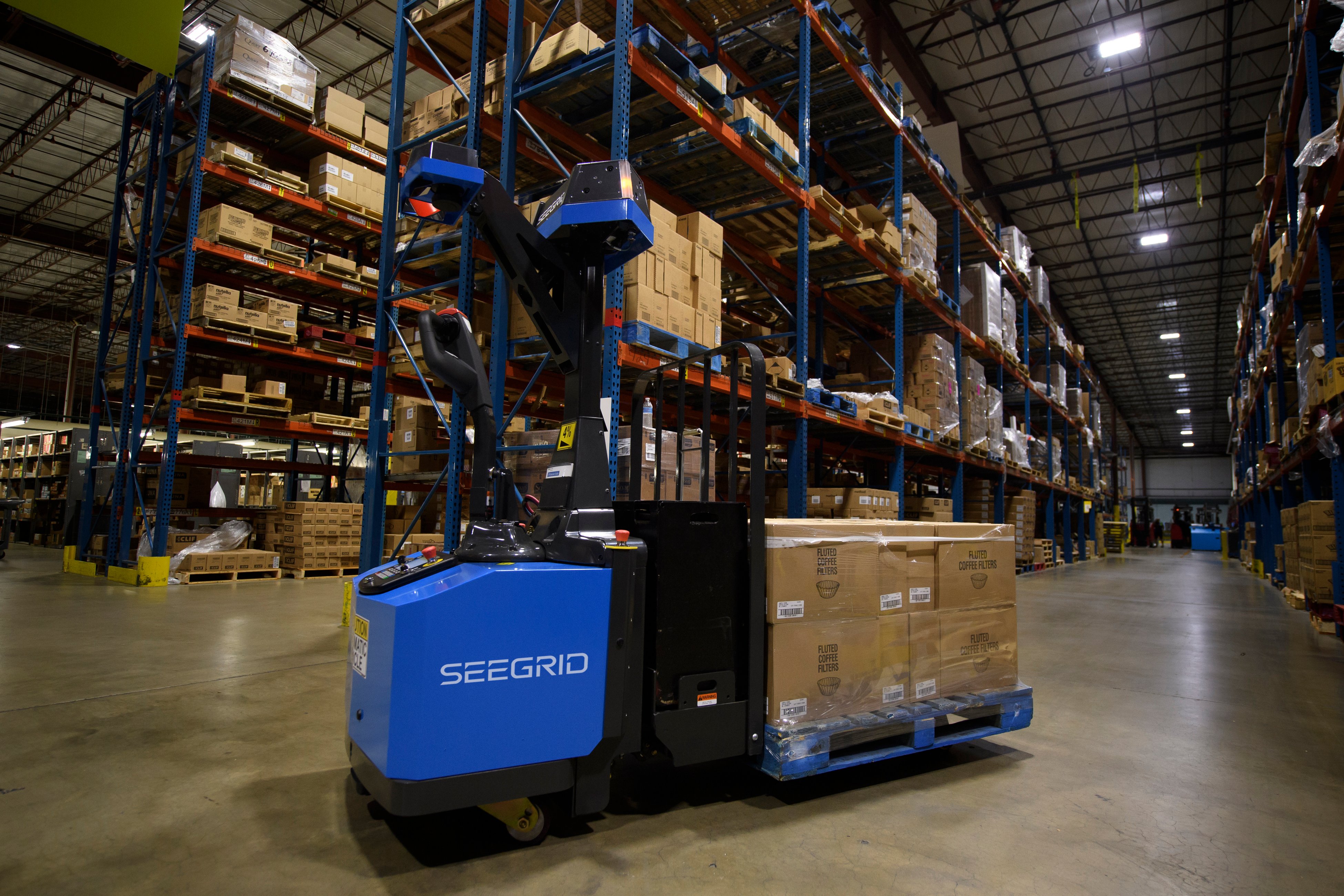 "The GP8 Series 6 closes the automation loop by providing an end-to-end solution, removing the need for human assistance to complete tasks," said Jeff Christensen, vice president of product with Seegrid. "In manufacturing and e-commerce environments, every human touch is costly and unpredictable. As we help our customers develop smart factories of the future, safety, efficiency, and operating costs will continue to be the driving forces behind the adoption of automation. Loading and unloading pallets independently creates safer working conditions, allows for more consistent throughput, and produces a rapid return on investment for our customers."
In the automotive industry, Seegrid self-driving vehicles are used for consistent delivery of parts to line. The Series 6 self-driving pallet truck picks up and drops off palletized car parts without human interaction, increasing productivity amidst labor shortages for automakers. In e-commerce, the Series 6 enables fully autonomous delivery of goods to keep up with fulfillment industry growth and demand.
Operating without wires, lasers, magnets, or tape, the Seegrid GP8 Series 6 allows manufacturers and distributors to change routes in-house, operate in manual mode, and effortlessly scale their fleet as they grow. As part of the Seegrid Smart Platform, the Series 6 is aligned with Industry 4.0 and lean initiatives, helping companies transform into smart factories of the future.
For additional information on Seegrid's connected materials handling solutions and the new GP8 Series 6, please visit seegrid.staging.wpengine.com.
ABOUT SEEGRID
Seegrid is the leading provider of connected self-driving vehicles for materials handling with more than a million miles driven. The Seegrid Smart Platform combines flexible and reliable infrastructure-free vision guided vehicles with fleet management software for a complete connected solution. Seegrid accelerates Industry 4.0 and lean initiatives with incremental automation, helping companies achieve a truly connected enterprise and transform into smart factories of the future. www.seegrid.staging.wpengine.com
Media Contact
Beth Peck
bpeck@seegrid.com
412-379-4500 x 7060
###