Leading Autonomous Mobile Robot Provider's Most Advanced Autonomous Lift Truck Initial Customer Shipments to Begin in April 2022
Seegrid Corporation, the leader in autonomous mobile robots (AMRs) for material handling, today announced that its newest autonomous lift truck, Seegrid Palion™ Lift, is now available for pre-order. Manufacturing, e-commerce, and logistics companies have the opportunity to lock in priority access to the highly anticipated lift truck AMR, which begins initial customer shipments in April 2022. Equipped with the most advanced generation of Seegrid's proprietary autonomy technology, Palion Lift is the company's newest AMR model and the only lift truck in the market with industry-leading 3D perception. The AMR makes its global debut this week with live demonstrations at MODEX, the world's largest manufacturing and supply chain trade event.
Palion Lift AMR brings together Seegrid's breakthrough 3D vision-based navigation technology with best-in-class situational awareness capabilities. Seegrid IQ autonomy technology fuses data from cameras, LiDAR, and machine learning models to enable Seegrid's autonomous forklift to excel in complex environments, moving material safely, accurately, and reliably in dynamic facilities.
"Our highly-reliable and proven 3D vision-based navigation system is now augmented with additional sensing modalities to create the latest generation of Seegrid IQ," said Chief Technology Officer Todd Graves. "This advances our perception, localization, planning, and safety systems—increasing the human-like situational awareness and agility of our AMRs, a critical capability for the extremely demanding conditions in which they reliably operate every day."
With advanced Smart Path sensing capabilities and 360° safety coverage, Palion Lift automates the transport of material up to 3,500 pounds throughout customer operations, precisely and securely retrieving and placing palletized goods at heights of up to six feet for a complete, end-to-end solution.
"As supply chain pressures continue to compound, our customers need a solution with the highest levels of safety and reliability to be both productive and resilient," said Jim Rock, Seegrid's Chief Executive Officer. "Our outstanding team of material handling experts and roboticists developed an autonomous lift truck with intelligence that is unmatched in the market."
The company's Palion AMR fleet has driven seven million autonomous miles in customer production environments without a single safety incident. This week at MODEX, Palion Lift will demonstrate end-to-end automation, showcasing lane staging, table and conveyor picking and placing, and interaction with other Seegrid IQ-powered AMRs. Booth visitors will also have the opportunity to see how Seegrid's Fleet Central enterprise software solutions orchestrate material flow. For more information about Seegrid's next-level automation solutions at MODEX, visit seegrid.com/modex2022.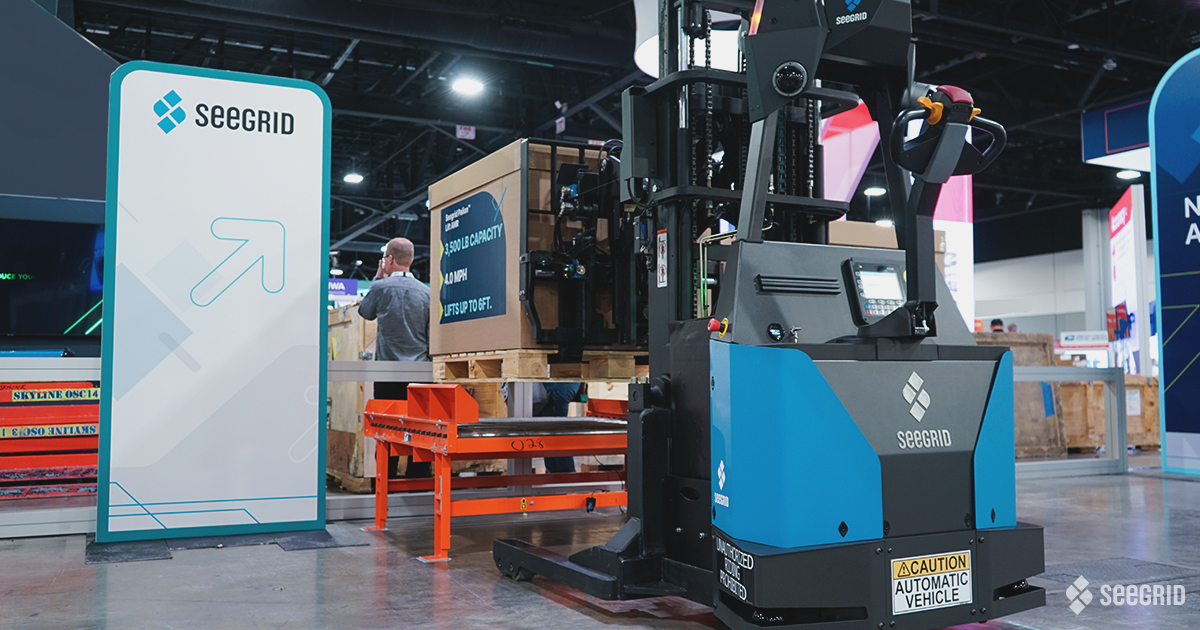 About Seegrid
Seegrid combines autonomous mobile robots, enterprise software, and best-in-class services for a complete, connected material handling automation solution. With millions of autonomous production miles driven, Seegrid PalionTM AMRs are reliable, flexible, and proven. The world's largest manufacturing, warehousing, and logistics companies rely on Seegrid to automate material flow in highly complex environments. From project design through deployment, change management, user training, and data-driven consultation, material flow is both safe and optimized, accelerating automation initiatives today and into the future.
To access Seegrid images, visit: seegrid.com/media
Media Contact
Lindsay Derda
media@seegrid.com
412-379-4500 x 188
###