Seegrid, the pioneer and leader in vision-based autonomous industrial vehicles, today announced the addition of Pete Chryplewicz to the Company's strategic account sales team. Chryplewicz will be heading up the important Detroit, Michigan robotics leadership initiative.

"I am honored to be leading the Seegrid Michigan robotics initiative. Seegrid recognizes the value of the state, its industries, and the role of automotive automation in the global economy. I look forward to working with Michigan's top automotive manufacturing companies and their team members to innovate manufacturing processes and increase competitiveness with Seegrid vision guided vehicles," stated Chryplewicz.
Chris Visnic, Seegrid Vice President of Sales, noted, "Pete is an industry veteran and Seegrid is honored to have him on our team. His expertise in automotive manufacturing will greatly benefit Seegrid and the clients he works with. He understands the needs of manufacturing companies and will work hard to expand Seegrid's presence within the state."
Chryplewicz, a native to Detroit, Michigan, brings over 15 years of demonstrated success in automotive and manufacturing sales to his new position. Chryplewicz's past employment experience includes Irvin Automotive, Plastech Engineering, Inc., Air Center, Inc., and CCK Construction Services (part of Colasanti Companies). He was drafted in 1997 by the Detroit Lions (5th round) and played several years with the Lions before retiring from football and starting his career in manufacturing sales.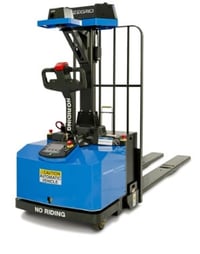 Recognizing that Michigan's business climate is stronger than ever, Seegrid is investing heavily on expanding its presence of vision guided vehicles within leading automotive companies. Nearly two-thirds of Michigan businesses describe the state as having a positive business climate. Some of the Michigan-based automotive related businesses likely to review the merits of vision guided vehicles in 2016 include BorgWarner, Continental, and Delphi.
Seegrid is a member of Automation Alley, Michigan's leading technology business association, connecting companies and organizations with talent, resources, and funding to accelerate innovation and fuel Southeast Michigan's economy.
ABOUT SEEGRID
Seegrid is the leading provider of connected self-driving vehicles for materials handling with more than a million miles driven. The Seegrid Smart Platform combines flexible and reliable infrastructure-free vision guided vehicles with fleet management software for a complete connected solution. Seegrid accelerates Industry 4.0 and lean initiatives with incremental automation, helping companies achieve a truly connected enterprise and transform into smart factories of the future.
Media Contact
Beth Peck
bpeck@seegrid.com
412-379-4500 x 7060
###