As we approach the new year, developments in the robotics industry are promising. In 2015, we saw robots emerge in manufacturing and distribution facilities worldwide, as automated vehicles have proven to be a safer and more efficient, decreasing transportation time for parts-to-line by more than 50% in some cases. This massive shift in robotics has been made possible due largely to impressive new visual capabilities. Vehicles like tow tractors and pallet trucks are equipped with Seegrid Vision, allowing them to operate entirely autonomously. This frees up human workers to focus on higher-level tasks, creating a dynamic workplace where humans and robots collaborate together.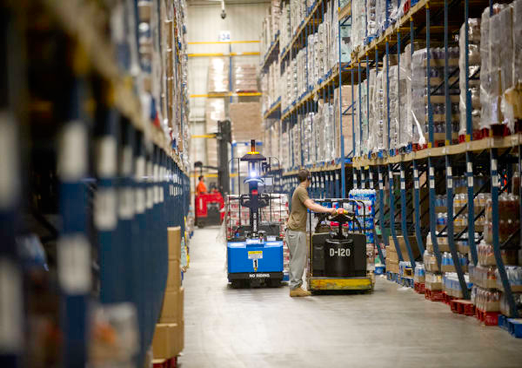 As we look ahead to 2016 and beyond, we can expect the level of human-robot collaboration to expand beyond the workplace into our everyday lives. Soon, the presence of automated robots on our streets will be as ubiquitous as the traffic lights that they will be programmed to obey. But before we get too excited about the future, it's important to understand how we got to this point.
The first automated guided vehicle system was developed in 1953, using a magnetic pull produced by a running current through wires in the floor. Sensors were installed on the bottom of a tow trucks, which were automatically guided by the magnetic pull of the wires. While a technological breakthrough for their time, these machines were running blind.
Advanced visual capabilities of automated vehicles did not emerge for decades. In 1996, Dr. Hans Moravec, Seegrid founder and principal research scientist in the Robotics Institute of Carnegie Mellon University, published a report on the development of robots' spatial perception by way of stereoscopic vision and 3D evidence grids' sensory representations of a robot's surroundings. Dr. Moravec created a program that was able to take stereoscopic images from a robot using affordable cameras and transform them into three-dimensional maps, providing the robots with a full—range view of their surroundings.
Today, Dr. Moravec's research not only makes up the principal technology behind Seegrid's visions guided vehicles, but also has important implications for the future of industrial robotics. Dr. Moravec's profound research has manifested into innovative software that provide machines with the ability to "see" in the third dimension.
The use of Seegrid VGVs in the material handling industry proves how drastically safety can improve thanks to vision technology. Forklifts are responsible for 110,000 accidents each year that result in 20,000 serious injuries and 100 fatalities. Seegrid Vision can help eliminate these types of accidents by giving vehicles actual sight and awareness of their surroundings to detect and avoid collisions. The results for Seegrid's customers have been astounding: zero reported incidents involving Seegrid vision guided vehicles.
As we move towards 2016 with an unrelenting push for advancements in robotics vision. We have arrived at a turning point in automated robotics thanks to vision technology, an achievement that has long been material reserved for robotics scholars' dreams. However, for companies like us, it's only the beginning. Seegrid is proud to be a pioneer in using vision for navigation, and we're excited to see what the new year will bring; here's to hoping access to the next dimension is on the horizon.