Seegrid announced the formation of Blue Labs. We sat down with Brennan Sellner, Seegrid's Senior Director of Advanced Development, to talk about this new team and what it means for the future of Seegrid and the autonomous mobile robot (AMR) industry.
Automation has become a foundational part of the global supply chain, transforming every step from manufacturing to fulfillment to shipping and logistics.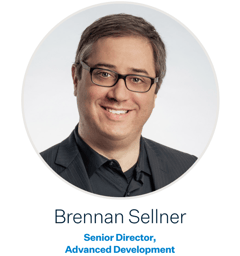 The safest and most efficient way to optimize is through automation and autonomous mobile robots (AMRs). The continued global surge in companies adopting material handling automation solutions drives innovation within the technology to become even more sophisticated, advanced, and expansive of capabilities.
In this "5 Questions Answered" segment, Seegrid's Senior Director of Advanced Development, Brennan Sellner, takes a deeper dive into Blue Labs and explains what the addition of this team means for the company's best-in-class autonomous mobile robot (AMR) technology.
What is Blue Labs?
Brennan Sellner: Blue Labs is Seegrid's dedicated research and development (R&D) group. This team of expert roboticists and engineers is focused on continuing and growing Seegrid's technical advantage with transformative innovation projects.
The Blue Labs team will closely monitor emerging technologies and develop solutions to further advance Seegrid's industry-leading portfolio of products. With our R&D team in place, Seegrid can accelerate and expand product development to incorporate new technologies and solutions into Seegrid's product lines.
Blue Labs was created to answer the big engineering questions for new products and capabilities, determining if the ideas in consideration are a good fit for Seegrid, our customers, and the market. Our group leverages Seegrid's deep market knowledge and our team's broad range of expertise to strategically investigate and provide recommendations, proofs of concept, and prototypes to our other engineering teams while identifying new pathways to quickly bring the future of material handling automation to our customers.
Our Blue Labs team has an entrepreneurial mindset: iterate quickly, explore aggressively, and work to rapidly adopt or discard new ideas and technologies. In order to maximize talents and gain a full understanding of the complex topics we will address, Blue Labs members will work collaboratively with other teams and departments to conduct research, consulting subject matter experts and thought leaders throughout the innovation process.

What Does This Mean for the Future of Seegrid and Autonomous Mobile Robots?
Brennan Sellner: As a group of experts solely focused on vetting, investigating, and creating new innovations, the Blue Labs team can fully immerse in and fast-track the development of emerging technology. The group's purpose is to realize our aspirations for material handling automation, which gives the team freedom to explore and develop promising and exciting new technologies that will facilitate faster development of new products and a rapid expansion of Seegrid's capabilities and product offerings. We will leverage Seegrid's innovative AMR technology and the deep wellspring of operational and customer knowledge the company has built over the past decades to reach beyond the possible and enable the coming generations of automation technology.
Ideas developed by Blue Labs will increase Seegrid's ability to advance the market as a whole, ultimately benefiting our customers with high-quality, effective, and proven solutions. Our Blue Labs team will explore new possibilities, quickly working through ideas to push sensing, safety, and automation technology to the next level. Seegrid will continue trailblazing and innovating in ways that make our manufacturing, distribution, and e-commerce customers even safer and more productive.
You Mentioned Seegrid's Innovative AMR Technology. Can You Explain What Makes It Different?
Brennan Sellner: Seegrid has been a technology innovator and leader for decades. Our company was founded by world-renowned roboticist Hans Moravec. Based on his legacy and years of automation innovations, our Palion AMRs navigate based on a proprietary, AI-based algorithm that combines the data from stereoscopic cameras, 3D LiDAR, and other sensors. This makes Palion AMRs unmatched in their ability to understand and learn, performing and reporting on tasks safely and productively for millions of autonomous miles.
Our mobile robots actually see the world much like people do. Seegrid's algorithm leverages our advanced perception software, which fuses data from a combination of sensors to give Seegrid Palion AMRs human-like comprehension of the world around them. Collecting, processing, and prioritizing massive amounts of data as they navigate, they combine multiple sensor types with vision-based data, providing the robots with even more information for an extremely accurate understanding of their immediate surroundings.
Blue Labs arose from the spirit of innovation that Seegrid was founded on, and will continue that tradition through research and evaluation of emerging sensing, automation, and application technologies. The team will work to determine how Seegrid can integrate or invent technologies to expand our capabilities, with the goal of identifying and creating ways to continue leading the mobile automation space in performance and safety.

Is It Safe for Humans to Work Directly Alongside the AMRs?
Brennan Sellner: Safety has always been a top priority for Seegrid: it was a main stake for us when I joined the company over a decade ago and remains at the forefront of our approach to automation. Every product or innovation we introduce stems from a passion for safely transforming material transport.
Due to our robust algorithms and multi-layered safety architecture, Palion AMRs operate seamlessly and safely alongside human workers in busy, dynamic environments. In fact, Palion AMRs have driven more than 5 million autonomous production miles in customer facilities without a single personnel safety incident. This simply can't be matched within our industry. Our AMR and software solutions create human-machine partnerships that elevate human potential and deliver profitability.
Blue Labs will continue to advance Seegrid's products with this same visionary mindset, increasing the capabilities and understanding of our mobile automation technologies to make facilities even safer and more productive. With a dedicated R&D team, Seegrid can help our customers achieve a competitive advantage.

What Does the Future Look Like for Seegrid?
Brennan Sellner: We're excited to continue pushing the limits of what's possible in mobile automation. We want to provide effective, reliable solutions to help our customers increase productivity, safety, and efficiency as the complexity of their supply chain demands skyrocket. We want to elevate human potential, creating a safer and more rewarding environment for the humans working alongside our AMRs. With Blue Labs' strategic exploration and ingenuity, the ongoing evolution of our industry-best technology will accelerate, helping our customers expand their operations and achieve more than ever before.