Lean manufacturing or lean production, as we know, is not a new approach for implementing efficient manufacturing processes. Lean is a well-known philosophy and has been part of manufacturing methods since the 1990s, but as customers increase the stakes for manufacturers to remain competitive by expecting shorter cycle time and wanting custom orders, it is becoming a goal to have flexible manufacturing methods. Flexible manufacturing works well for demand swings in the production process.
At times, I have seen flexible manufacturing as interchangeable with lean manufacturing. Lean manufacturing altered the production process for many leading-edge companies during the last 20 years, but with consumer options increasing, the process is being transformed for flexibility in manufacturing. Redesigning the manufacturing process to maximize throughput often requires methods that are more flexible to balance the material flow with the pace of production.
For businesses that do allow customers to guide their manufacturing process, flexible manufacturing helps companies expand or contract on the production process to meet customer demands, keeping costs down which provides that competitive edge.
Reducing lead time
Using a pull method (which is simply making product based on actual demand), reduces lead time for producing a product. This method, along with moving material through the production process based on when it is completed at each workstation also reduces lead time.
Seegrid understands the importance of providing a transport solution that will work in this type of environment—and work well as a solution for lean and flexible manufacturing. Vision guided vehicles (VGVs) are perfect for this kind of manufacturing process, while reducing waiting time, motion, and transportation costs. The vehicle can easily be trained routes to deliver material to workstations, and then wait for the vehicle's start button to be pushed by a worker for the VGV to continue to the next workstation when the product or batch is completed. Moving only the right amount of product at the right time will eliminate bottleneck in the production line, effectively moving material or product between workstations or assembly lines as needed.
Getting the material to the production floor
Of course, vital to lean manufacturing or flexible manufacturing is getting the material to the production floor. That is not as easy as it might sound because in most cases, it involves workers. Allocating the right amount of workforce can be a challenge due to activity such as unscheduled machine downtime, productivity fluctuations, absent workers, custom order due dates, or material delays to the production line, all of which affect resources. Whether under-or overscheduled labor resources, there is cost associated that directly and negatively affects lean manufacturing. Therefore, integrating a flexible unmanned transport system to move product will help with labor uncertainties associated with moving material in the production process. Additionally, companies will benefit from a reduction in labor costs and less inventory on the production floor.
Lean or flexible—have both!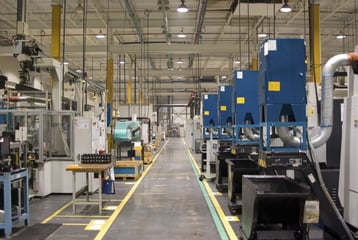 Whether adopting lean or flexible manufacturing methods, material movement is a resource waste and does not provide value to the customer. A flexible unmanned VGV system addresses this waste by helping companies move material throughout a production floor in an efficient manner, supporting efforts to be responsive to the needs of customers, especially when there is greater customization or highly specialized orders.
Of course, as we know, there are many components to the supply chain that must collectively work together to have a lean and flexible manufacturing process, it is not just one element that will get the results. In the overall strategy to reduce costs, increase productivity, and gain a competitive advantage, lean and flexible manufacturing methods benefit from having a flexible VGV solution. The vision technology empowers users to make changes in material movement when the business needs fluctuate by simply reprogramming routes.
In effort to be lean and flexible for this competitive customer landscape, a flexible and scalable VGV solution becomes a significant tool for a customer driven production schedule.