Today, Seegrid introduced the Seegrid Palion AMR product family, representing our newest line of mobile robots that uniquely provide automated material flow. We sat down with Seegrid Vice President of Product Jeff Christensen to talk about the differences between AMRs and AGVs and the future of material handling automation.
The smart factory of the future has quickly become reality. Material handling automation technology continues to advance, with new developments and innovations evolving every day. As technology evolves, so does the terminology.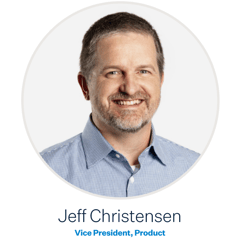 In this article, we ask an industry expert for insights into the advancements of automating material flow, and how the best solutions serve the demand for flexibility and agility. Jeff Christensen, Seegrid's VP of Product, is focused on Seegrid's product development efforts. Jeff's career spans technology design, information delivery solutions, business intelligence, and analytic software.
In this "5 Questions Answered" segment, Jeff Christensen explains the differences between AMRs and AGVs. Discover how automation has evolved and what it means for your facility's automation goals of becoming safer, more productive, and cost-effective.
AMRs vs. AGVs: What's the difference?
Jeff Christensen: Technology is rapidly developing in the automation space, and analysts are actively defining and classifying robotic taxonomies. While autonomous mobile robots (AMRs) and automated guided vehicles (AGVs) serve similar functions in manufacturing, warehousing, and logistics facilities, based on today's industry definitions, there are distinct differences in how these robots operate.
An AMR can navigate using entirely on-board technology, without any external maps or landmarks required. AMRs sense the environment around them in real time, navigating based on the inputs gathered through on-board technology. These robots do not have dependencies on any sort of infrastructure compared to a traditional automated guided vehicle or AGV. Industry-leading market research experts and consultants that follow emerging technologies use the AMR term to describe the next generation of driverless material movement. Given the rapid growth in the industry, there is some variation in definitions of emerging terminology like this, but the critical difference is whether any explicit infrastructure is required to navigate, and how that enables flexibility over time.
Like AMRs, AGVs are also driverless industrial vehicles used to transport materials within a plant or facility. However, traditional AGVs are designed to follow fixed, established paths that are defined by some piece of infrastructure. This could include sensors such as tape, wires, magnets, or reflectors.
Do all AGVs use physical landmarks to navigate?
Jeff Christensen: Traditional AGVs navigate based on built-in physical infrastructure or landmarks, following wires or magnetic tape embedded in the floor or using lasers with reflectors placed throughout a facility. The first AGV dates back to 1954. MAC Barrett of Barrett Electronics is credited with inventing the world's first AGV which tracked a signal in a wire mounted on the ceiling. Soon after this introduction, wires were installed in a slot in the floor. Traditional infrastructure-based AGVs still exist today, relying on wires, magnetic or colored guide tape, or laser targets for navigation.
Infrastructure-based AGVs reliably follow paths. However, if circumstances or workflows change within a facility—such as increased demand, new product lines, or workflow adjustments—the built-in infrastructure would need to be altered or even completely rebuilt. This could result in extensive production downtime and additional cost, impeding continuous improvement efforts.
The need for manufacturing and distribution centers to quickly adjust and adapt drove technology advancements in material handling automation. The market sought a more flexible, infrastructure-free solution. In 2003, Seegrid was founded, bringing artificial intelligence to material handling. We've continued to build upon our foundation to create the most reliable and proven AMRs in the industry to support our customers in achieving their automation goals. In fact, Seegrid Palion AMRs have safely logged more autonomous miles at customer sites than any other mobile robotics company in the world.
What advantages do AMRs offer over infrastructure-based, traditional AGVs?
Jeff Christensen: Traditional AGV vendors and other infrastructure dependent material transporters require costly upfront internal logistics installation of physical landmarks such as wires, magnets, or tape throughout a plant, and can disrupt production. Additionally, if you want to modify the route after the placement of these landmarks, most AGV vendors have to send a team of engineers to retrain the route. This process is costly, and can take days or even weeks, which risks downtime in your facility.
Seegrid Palion AMRs use proprietary, patented 3D navigation technology using cameras, algorithms, and machine learning to give our robots a human sense of space: it's how Seegrid's robots know where they are in a busy warehouse and confidently navigate and accomplish tasks. The more enhanced understanding the robots have of their environment, the better the ability to make decisions across a greater number of situations.
Ultimately, it all comes down to flexibility. You should design your automation project for continuous improvement with the ability to change routes. Seegrid Palion AMRs eliminate the need for rigid infrastructure requirements. With Seegrid robot technology, our customers are able to retrain their robots to new routes or redeploy to new functions, shifts, or facilities without disruption to production or assistance from a Seegrid representative.
As a company, Seegrid continuously takes strides in accelerating and expanding artificial technology technology to support the evolving needs of our customers. We are committed to delivering effective solutions that bring value through uncompromised safety and increased productivity to support demands of today and into the future.
Do AMRs and AGVs navigate differently?
Jeff Christensen: Yes, AMRs and AGVs rely on different forms of navigation. As previously mentioned, traditional AGVs rely on physical elements that are built into the facility infrastructure. AMRs can navigate using on-board technology without needing to rely on landmarks or facility sensors. Seegrid Palion AMRs leverage navigation technology that is a continuation of breakthrough robotics pioneered by world-renowned roboticist Dr. Hans Moravec, our chief scientist. After decades of perfecting vision technology, Hans founded Seegrid in 2003, bringing mobile robotics to material handling.
Since then, Seegrid continues to deliver on our customers' material flow goals, increasing productivity and optimizing workflows, with reliable and scalable automation solutions. Seegrid Palion AMRs are able to achieve a human sense of space by using enhanced situational awareness along with proprietary, patented 3D navigation technology using cameras, algorithms, and machine learning.
Which is best for my facility—AMR or AGV?
Jeff Christensen: There are multiple definitions for these industry terms in the market. In reality, the definition is less important than the value to customers through robust, flexible autonomous navigation in real-world environments and safety systems to protect personnel.
Furthermore, automation is not a "set and forget" process. Automating your material flow is a continuous, ongoing process that should evolve as your company grows and evolves. Your demands, challenges, and product offerings will change over time. The processes you use today will be different from those in the future. Choose a solution that enables you to facilitate continuous improvement to drive increased value and productivity over time.
Supply chain pressures continue to become more demanding and complex. Investing in an automation solution that allows for flexibility to easily make changes for ongoing needs without completely overhauling, creating downtime, and overspending is crucial. Change will always play a factor, whether it's planned or unexpected. Ensure that you select a solution that provides proven flexibility and support to quickly adapt to disruptions and changes.
Seegrid is the market leader in robust navigation with an unmatched safety record in production environments. Seegrid technology is proven and unique, protected by 80 patents, trade secrets, and proprietary information. The biggest brands in the world trust Seegrid to provide the best solutions for automating material flow in their facilities: increasing throughput productivity, improving employee and facility safety, reducing labor and operation costs, creating human-machine partnerships, driving continuous improvement, and advancing innovation initiatives. As you research and implement automation technology, focus on finding a solution that is proven to provide you the flexibility you need to drive continuous improvement to achieve your automation goals.