In part one of the two part series of this blog, we cover forklift dangers being inherently dangerous vehicles, as approximately every three days, someone in the U.S. is killed in a forklift related accident. Even with safety regulations for the workplace, there is reason for companies to seek forklift-free environments. Forklift free requires using alternative solutions to move product from point A to point B without having forklift vehicles for transport.
Such an environment reaps benefits that go beyond safety, especially for manufacturing facilities when incorporating vision guided vehicles (VGVs) into the lean process. In facilities using forklifts in the process of horizontal transport, an automated vision-guided unmanned tugger solution with dollies, trains, or carts can be assimilated into the process to move the right amount of product for Just-In-Time (JIT) delivery. With the Seegrid tow tractor, the solution is simple, flexible, and affordable, and easily incorporated into a current manufacturing process to help keep inventory levels low and aisles free from excess product, bringing a more profitable business.
Vision Guided Vehicles Drive Benefits
Safety is driving momentum for forklift-free environments. Although training and legislation are instrumental in managing some degree of risks associated with forklifts, statistics reveal numerous accidents occur every year, providing reason for greater acceptance of forklift-free environments. This motivation towards forklift-free leads the way to adopting a more efficient form of transport—vision guided vehicles (VGVs)—favorably driving benefits beyond safety and profitability.
To protect workers, agencies in the United States and abroad, such as OSHA (Occupational Safety and Health Administration) and EU-OSHA, provide analysis, research and prevention information, which policy makers use to regulate workplace safety and health. Various groups focus on standardized training and encourage continuous process improvements in workplace safety.
Even with legislation and training enforcement, there is no evidence that these preventative methodologies have verifiable best practices and safe behaviors among forklift operators globally. Without evidentiary data to support these prevention techniques, companies concerned with safety are proactively seeking alternatives to forklifts with automated guided vehicles and forklift-free environments.
Forklift Incidents Bring Cause for Safety Initiatives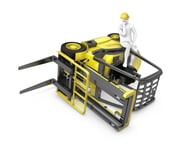 Every year hundreds of fatalities occur from forklifts worldwide. Federal OSHA estimates that in the United States alone, there are nearly 100 worker fatalities and another 20,000 seriously injured in forklift-related incidents annually. According to the National Institute of Standards and Technology, OSHA estimates that there are 110,000 forklifts accidents each year:
$135 million immediate costs are incurred due to forklift accidents
Approximately every 3 days, someone in the US is killed in a forklift related accident
Almost 80% of forklift accidents involved a pedestrian
1 in 6 of all workplace fatalities in the US are forklift related
Forklift accidents cost employers an average of $48,000 per single work-related disabling injury and $1,390,000 per cost of death, as reported by The National Safety Council. In addition to those costs, according to OSHA, unsafe working environments can lead to OSHA citations resulting in penalties from $7,000 to $70,000.
Randy Blaylock of Trilogiq USA, a global material handling solutions firm, suggested, "There are various causes of forklift related accidents, including operator distraction, visibility issues, and operator error (very similar to causes of automobile road accidents). Forklift operators are constantly barraged with interruptions such as other forklifts, line operators' requests and route alterations. Visibility can be an issue as they often don't have a clear view over obstacles or stock areas, which can lead to forklift overturns and accidental run-ins with other employees or objects."
Training initiatives, safety protocols, and standard operating procedures (SOPs) have not eliminated the dangers that forklifts impose. After decades of systematic process improvements in the use of forklift operations in warehouses, distribution centers, and manufacturing plants, many companies, industry leaders, and government organizations are concluding that forklift-free environments may be the only fail-proof approach to ensuring safety. For that reason, automation in materials handling has been gaining momentum in the drive for forklift-free in manufacturing, as well as warehousing facilities.
True there are important advantages to a forklift-free environment; however, it may not be conducive for all operations, such as when lifting and overhead storage is required in the warehouse area. Additionally, it is still common to find loading docks using forklift trucks to load and unload deliveries. However, Chuck Paulausky, CHMM (Certified Hazardous Materials Manager) at CP Safety & Environmental, stated, "For companies that can implement the forklift-free systems, there can be huge benefits in terms of both reducing employee injuries and forklift maintenance costs, and in reducing production costs through lean manufacturing."
Paulausky suggested that powered industrial trucks (also known as forklifts) can be inherently dangerous. Many aspects of forklift operation, such as unstable loads, unsafe driving, ramps and rough terrain, and inadequate maintenance can kill or injure the operators and anyone else in the vicinity. These frequent conditions pose dangers to the operator and pedestrians, especially true if the operator fails to follow safety operation rules or makes cognitive errors. Therefore, companies are looking towards forklift-free environments with automation solutions that will protect the welfare of workers.
Forklift-Free Environments Boost Lean Efficiency
Automation solutions coupled with lean manufacturing is the step in the right direction for a more efficient operation. However, really boosting lean and efficient operations is a forklift-free environment and properly designed systems.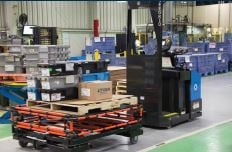 Fundamentally, this model eliminates waste and non-efficient processes, having quality products on time, and removing non-value-added activities, safely and accurately, which in turn delivers greater efficiency.
Whereas, forklift operations do not always provide greater efficiency, forklifts typically deliver large loads of palletized goods, taking up valuable aisle space and keeping excess inventory on the floor. Blaylock commented, "The primary function of a forklift is to take advantage of vertical stacking and to transition product from alternate heights. Yet the vast majority of forklift activity and utilization is driving horizontally, not lifting vertically."
Properly designed systems can reduce forklift traffic by more than 80%, creating immediate process improvements. In the case of horizontal transport, an automated tugger solution with dollies, trains, or carts can easily move the right amount of product for Just-In-Time (JIT) delivery, keeping inventory levels low and aisles free from excess product. Forklift trucks are ill-suited for this task, whereas, carts can be customized for a wide range of tote and bin deliveries. Ultimately, eliminating waste, managing a smooth flow of materials, and reducing non-value-added steps to achieve JIT is the goal of lean for becoming an efficient operation.
Next week, stay tuned for the conclusion of the message on forklift-free environments. You will read how safety and profitability are not mutually exclusive.
Sources:
OSHA: https://www.osha.gov/dep/leps/RegionIV/reg4_2013_07.pdf
National Institute of Standards and Technology: http://www.nist.gov/el/isd/ms/upload/PerMIS-09-Forklift-Safety-WhitePaper.pdf
National Safety Council: http://www.nsc.org/news_resources/injury_and_death_statistics/Documents/Costs_web_2011.pdf
OSHA: https://www.osha.gov/pls/oshaweb/owadisp.show_document?p_table=OSHACT&p_id=3371
The American Society of Safety Engineers: http://www.asse.org/professionalaffairs-new/bosc/impact.php
OSHA: https://www.osha.gov/Publications/safety-health-addvalue.html
Randy Blaylock, National Sales Director, Trilogiq USA: http://www.trilogiqusa.com
Chuck Paulausky, CHMM, CP Safety & Environmental: http://www.cpsafety.net/about-2/